Blue Diamond™ Inflation Device

The Blue Diamond inflation device is a portable inflation device that combines the accuracy of a digital device with the simplicity of an analog system.
BasixCOMPAK™ Inflation Syringe

The BasixCOMPAK Inflation Syringe is an analog device that provides visibly accurate information. It features an easy-to-read luminescent display for low-light procedures.
basixTOUCH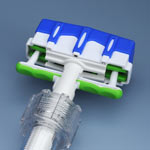 The basixTOUCH™ Inflation Syringe is an innovative device with:

• An ergonomic handle that enables one-handed preparation and priming
• 35 ATM pressure capability and 30ml fluid capacity
• Rapid inflation and deflation speed
Endotek BIG60